We offer MiniFlings, audio-guided pairings of our signature products
These fun-filled social events by Taste Talk, pairing fine chocolate truffles with exceptional Scottish spirits, are hosted at our Dunkeld home.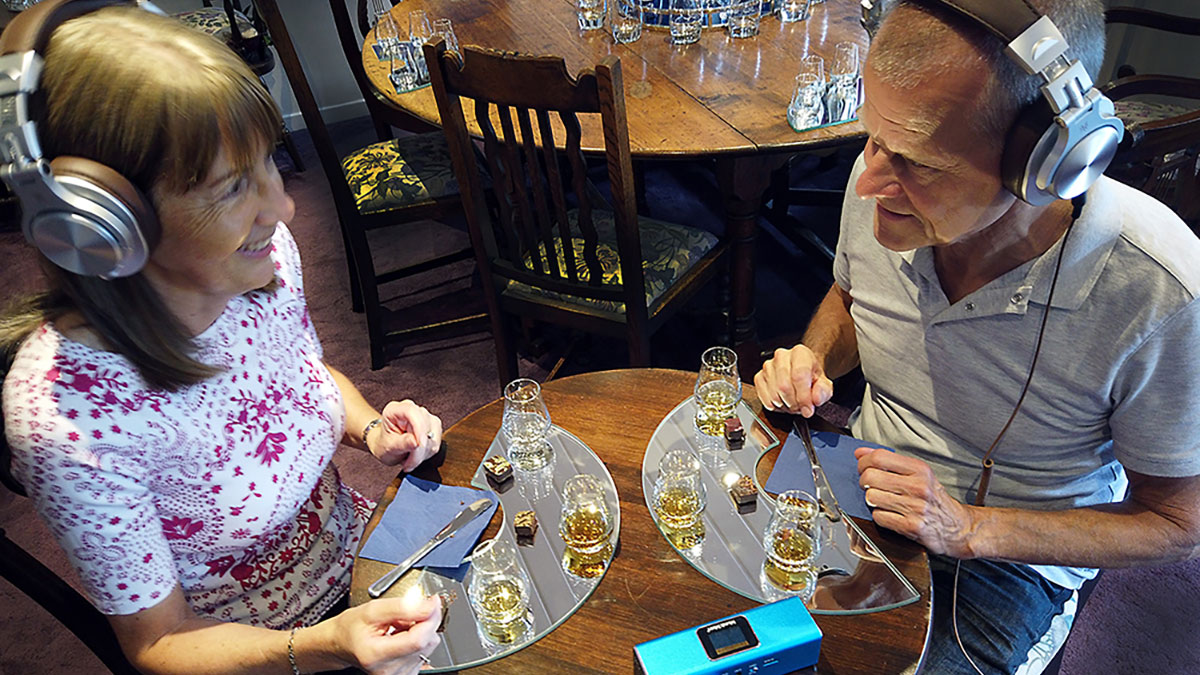 Enjoy a Spot of Self-Indulgence
These audio-guided pairings offer a special selection of spirits and truffles. Listen as Gillian, our lead Ambassador, explains the magical way they harmonise and complement each other. Accompanied by our own music, they last about 30 minutes and usually booking is not essential. Just stop by.
30 Minutes of Luxury
Enjoy three Malt Whiskies or one Gin and two Malts.
Each paired with an exquisite chocolate truffle crafted by the award-winning Highland Chocolatier.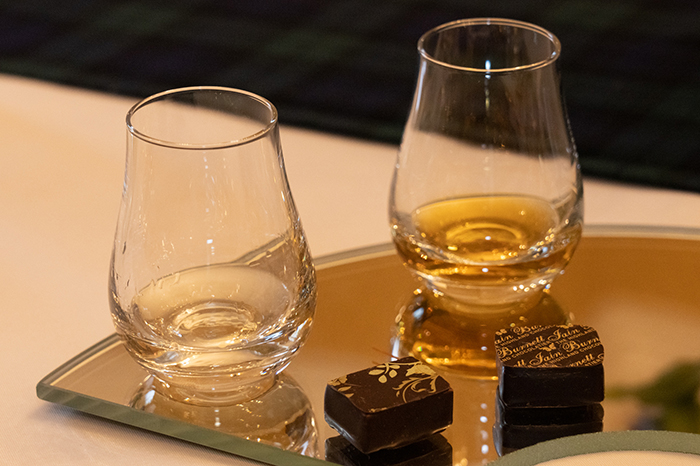 Music by Dougie MacLean
Taste Talk has commissioned a new album of music from world-renowned Scottish folk singer Dougie MacLean and his son Jamie MacLean to accompany our Flings.
The Perfect Gift – Our Taste Talk Kit
Our Taste Talk Kit brings the Fling to anyone anywhere wishing to enjoy a whisky tasting experience with friends and family; perfect for all occasions including Burns Night and Hogmanay. This fabulous 'Scotland in a Box' of delights, suitable for four people, contains an exclusive CD of music specially written by Dougie MacLean and Jamie MacLean for Taste Talk; a guided Fling presented by Gillian, five miniatures of the spirits we have selected for pairing and a beautiful 20 box of Iain Burnett's truffles. This package of pleasures is available to purchase at our home in Dunkeld and online.
Our Dunkeld Home
Taste Talk operates from our premises in the historic centre of Dunkeld close to the Market Cross. The mighty River Tay flows southwards a hundred yards away and is reached through an arch directly opposite. Part of the premises has been furnished to create a lovely Tasting Room, home of our regular Fling events.
Alongside is our bijou shop selling the chocolates, spirits and music we are so passionate to promote, and very soon our Taste Talk Kit, a truly great gift for all connoisseurs of these sublime pleasures.